This year, I decided to try cooking new fruits and veggies. At the top of my list: beets. My mom was absolutely terrified that I was going to stain the white countertops with my new project. I'm proud to say, I only stained one kitchen towel.
These beets were in peek season and the size of softballs. (Pretty sure you could do some serious damage with these suckers.)
Anywhozit, thanks to Oh She Glows and Naturally Ella, I didn't waste my time peeling the beets. I just chopped them up, tossed them with maple syrup, olive oil, and salt, and let them roast for close to an hour. Now would be an excellent time to pull out those awkward lunch lady gloves so you don't end up with magenta hands.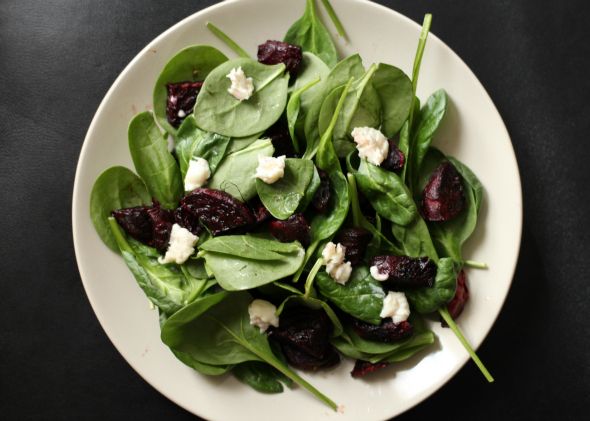 This salad is wondrously simple. Perfect for spring. Perfect for lazy days. Pair this with a walk in the park, yoga in a spot of sunshine, and good book and you've got yourself a lovely spring day. It also makes for a great reset button after a weekend of chocolate stuffed marshmallows and assorted oh-so-yummy-but-oh-so-bad-for-you goodies.
Maple Roasted Beet Salad:
Adapted from Naturally Ella
Serves 2
3 large beets

spinach
crumbled goat cheese
1 tbsp maple syrup
1 tbsp olive oil
pinch of salt
chopped walnuts (optional)
Preheat oven to 425ºF.
Wash and chop beets, removing ends and greens. In a bowl, whisk maple syrup, olive oil, and salt. Toss beets in liquid mixture, then spread on a baking sheet. Bake for about 1 hour (it could be more or less depending on the size of your beets).
Toss beets with spinach, goat cheese, and chopped walnuts (if using). You can also drizzle it with a bit of olive oil, but I found it wasn't necessary.