I know the last thing anyone is thinking of right now is soup. But it's snowing. Again. I think Mother Nature forgot her calendar.
Our school let us out half way through the school day because of the weather. That is totally cool by me, since I have so much to get caught up on. Granted I didn't get everything done that I needed to (I am a notorious procrastinator). But! I did almost an hour and a half of yoga, finished up this post, read a bit of Jacky Faber, enjoyed hot chocolate with a few episodes of Hawaii Five-0 (the new version… Alex O'Loughlin anyone?). Oh, and I suppose there was some AP composition homework finished in there too.

This soup is pretty simple. And vegan. Also delicious and perfect for those sick days. Veggies are chopped, soup is heated with spices, noodles are cooked, and everything is combined.
As for the cold busting properties of the soup (originally named Asian Soup To Cure A Cold), it definitely helps. My theory? The sriracha and cayenne use their kung fu prowess and kick your cold in the teeth.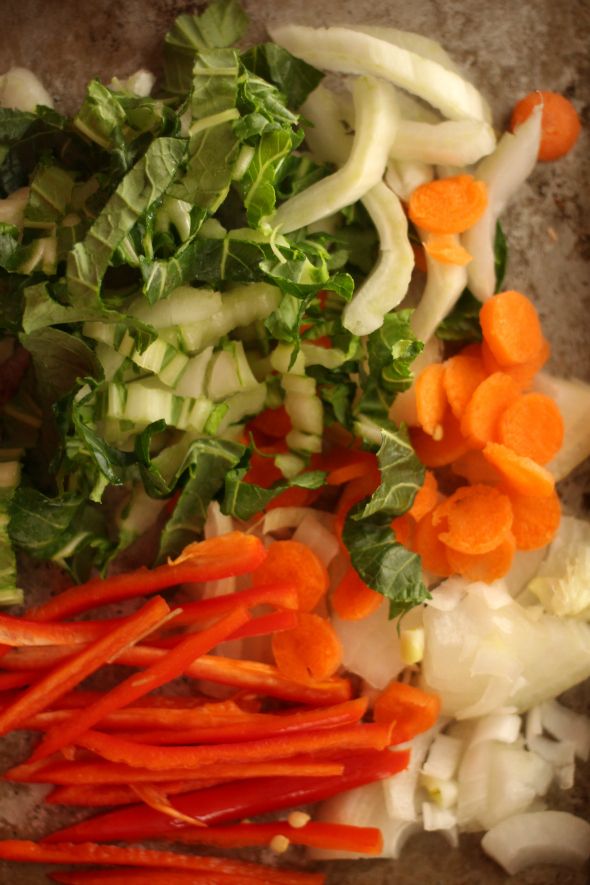 Those chopsticks? Yeah, just for show, buttercups. I can use them, but I don't see why with soup. Spoons are a wonderful invention, use them.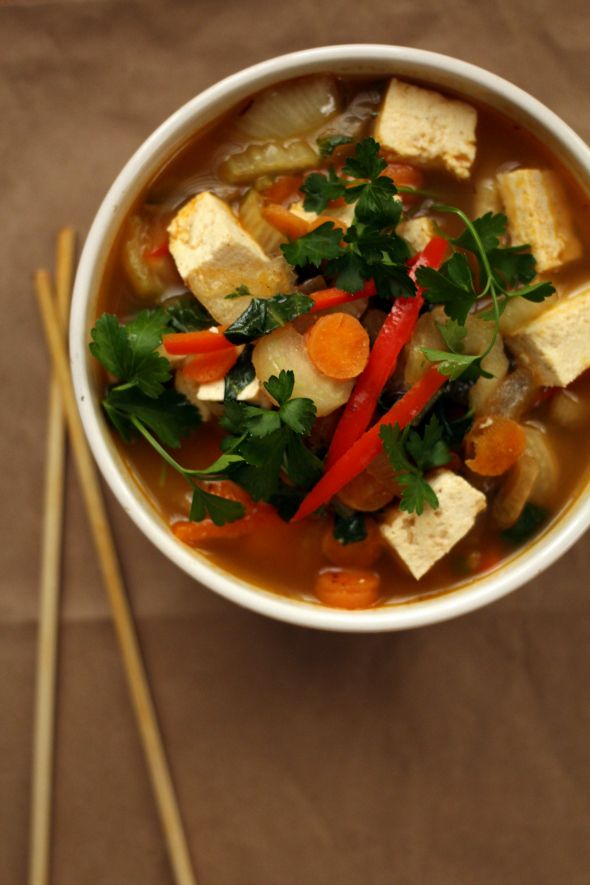 Asian Inspired Soup
adapted from Coffee and Quinoa
serves 3-4
1 Tbsp sesame oil (olive or canola works fine, too)
1 1/2 tsp ground ginger
2 cloves garlic, diced
1/4 tsp cayenne pepper
6 cups vegetable broth
1 small onion or 1/2 medium, thinly sliced
3 Tbsp reduced sodium soy sauce
1 tsp rice vinegar (balsamic works in a pinch, too)
3 baby bok choy, chopped
1 red pepper, thinly sliced
1 carrot or handful of baby carrots, peeled and sliced into very thin coins
7 oz extra-firm tofu, cubed
5 oz soba noodles (I subbed whole wheat linguine)
chopped cilantro, for serving
sriracha sauce, for serving
In a large pot, heat oil over medium high heat. Once hot, add onion and sauté until translucent, 3-4 minutes. Add garlic, ginger, and cayenne and sauté for another minute. Add vegetable broth. Cover and simmer 10-15 minutes.
While broth is simmering, cook noodles according to package directions. Drain and set aside. Cook the noodles separately to avoid starchy soup (ick).
Add soy sauce, rice (or balsamic) vinegar, vegetables, and tofu, and simmer until veggies are heated through, 1-3 minutes. Add noodles and heat for 1-3 more minutes, until both noodles and broth are hot.
Remove soup from heat and ladle into bowls. Serve alongside chopped cilantro and sriracha.
Note: If you plan on leftovers, keep the vegetables separate from the soup. Assemble when you are ready to reheat and serve.