It's nearing the end of the school year, and I could not be more stoked. Now that we're in the final month (less than!), everything seems to be hurtling by at top speed. My days are usually as follows:
Wake up at 6:30am. Get ready. Eat breakfast. Throw random things that slightly resemble a lunch. 

Report to internship at the hospital before 8am.
Watch surgeries. (It's so awesome!)
Go to other classes. (I really don't care that much at this point.) Convince Spanish teacher to let us watch movies in Spanish. Try not to sleep in Finance. Or any other class.
Go home. Take a walk, do Insanity, or do yoga.
Procrastinate homework. Watch TV.
Panic about said homework. Finish. Sleep.
Repeat.
So I hope you understand the lack of outfit posts. Sorry 🙁
I dug this one out of my archives. It actually looked like this outside up until yesterday. This was on one of my many lazy days. I needed a sweater so badly, I went hunting in my dad's closet. He still doesn't know I stole borrowed this.
Do you have any idea how comfortable it is to swim in a sweater? You will never understand until you try it for yourself. Truth.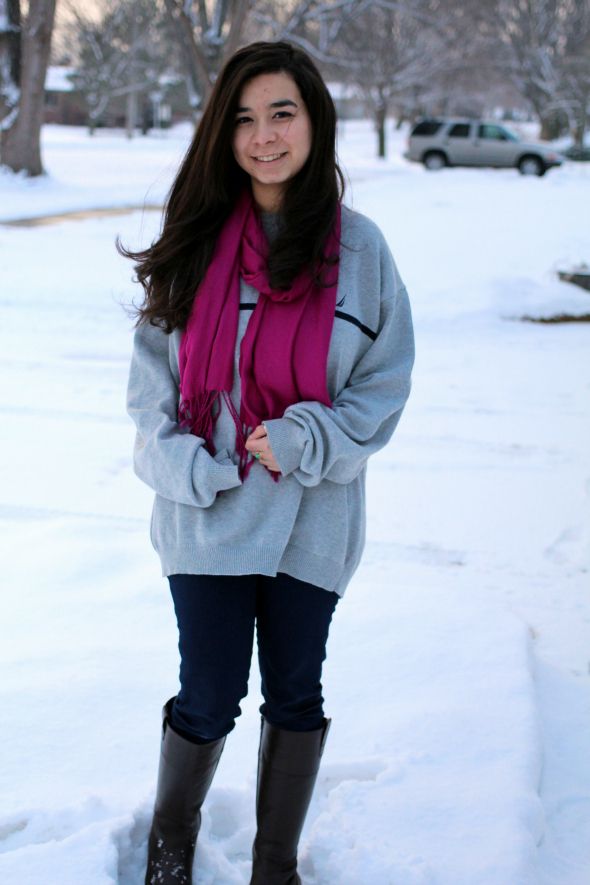 These boots are my best friends. We are inseparable until spring. You can see why.

[ sweater: Nautica (men's) | jeans: Celebrity Pink | boots: Ralph Lauren ]