My quest to try 15 new salads has led me to some delicious destinations. Honestly, 15 new salads isn't much of a problem during summer since all I want to eat are salads. (I have oodles of recipes to try! Oodles, I say!)
The first time I made this salad, I took it with me to the opening night of the spring play. I ended up having trouble eating it because I was busy explaining to several fairies and assorted Athenians what I was (not) eating. Then I got distracted by the chocolate that Mama Knapp brought and made myself sick eating too much of it… but that's another story.
All of which is me trying to tell you how yummy and portable this salad is. It also keeps well for up to a week in the fridge, making it a perfect make-ahead lunch or lazy summer dinner option. (I've used it for both.) And this salad is plenty healthy if you feel the need to eat it twice in one day, which I have. I even included the nutritional information at the end!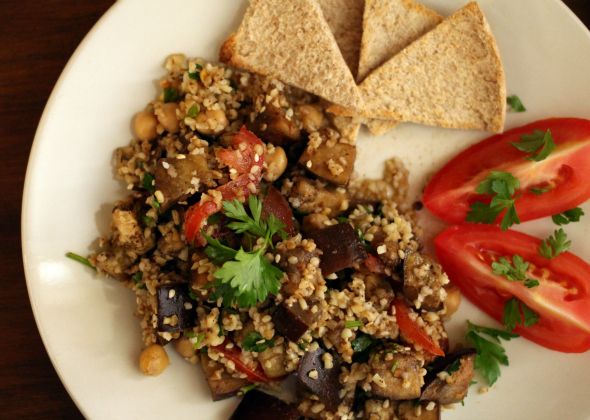 Eggplant and Chickpea Za'atar Salad
adapted from Green Kitchen Stories
serves 4
2 medium-large eggplants, cubed
1 cup canned chickpeas, rinsed and drained
3/4 cup medium coarse (#2) bulgur
4 roma tomatoes, thinly sliced
1/2 cup parsley, coarsely chopped
1 tsp cumin
1 tbsp sumac
2 tbsp olive oil
1 tsp salt
1  lime, juiced
1 tbsp olive oil
Za'atar Seasoning:
2 tbsp sesame seeds, toasted
1-2 tbsp sumac
1 tsp thyme
1/2 tsp cumin
Toss eggplant with cumin, sumac, olive oil, and salt and roast at 350ºF for 30-40 minutes or until soft.
Cover bulgur in about 3 cups boiling water and let soak for 20 minutes or until chewy. Then drain the water.
In a large bowl, combine the roasted eggplant, bulgur, chickpeas, tomatoes, parsley, lime juice, and za'atar seasoning (olive oil, sesame seeds, sumac, thyme, and cumin). Add additional salt if necessary. Eat it as is or serve it with toasted pita and tomato wedges.
Nutritional information (per serving): 250 calories, 3.2g total fat, 52.1g total carbs, 19.2g fiber, 9.2g sugars, 11.7g protein.